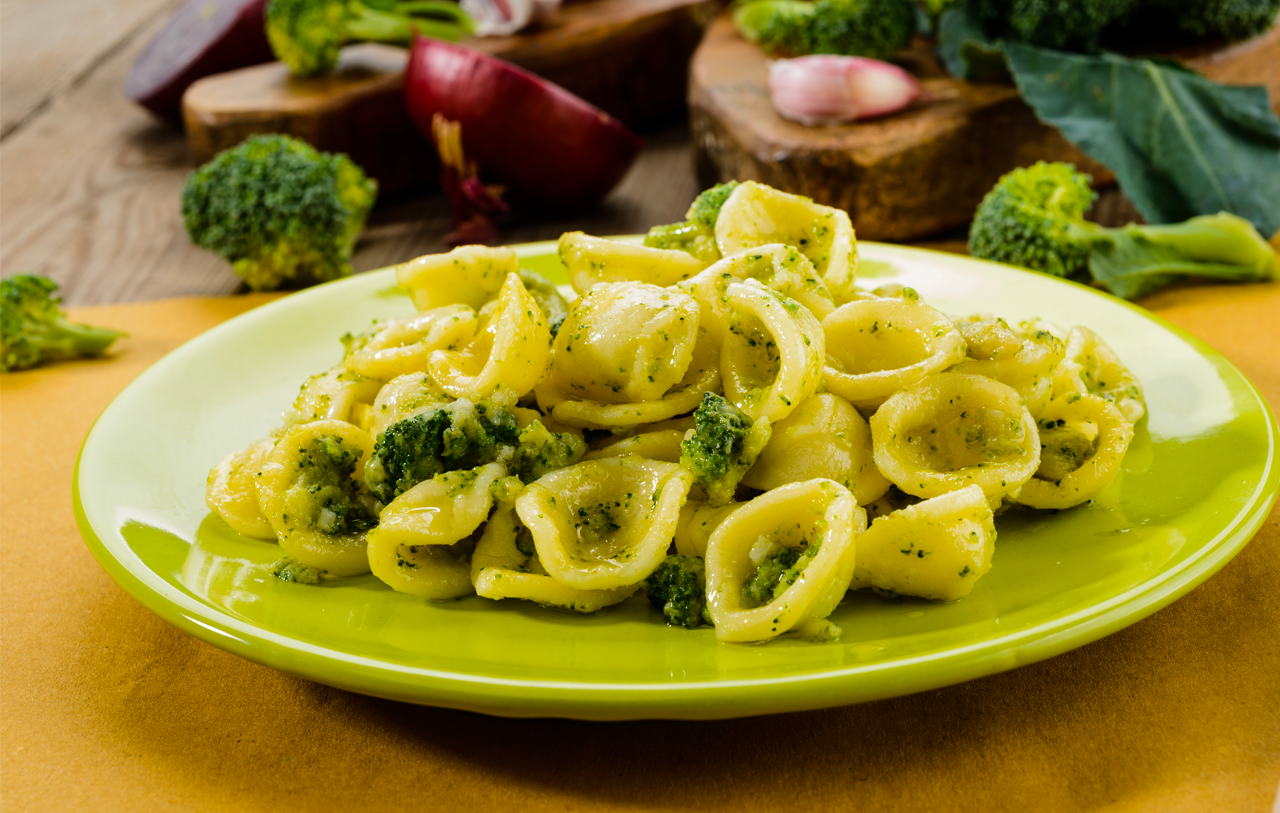 Classic Pugliese Orecchiette With Broccoli Rabe
14 oz. orecchiette pasta
18 oz. broccoli rabe, washed and chopped
4 garlic cloves, finely sliced
4 tbsp extra virgin olive oil
1 red chili pepper, deseeded and finely chopped (optional)
Salt, to taste
Grated Pecorino cheese, for serving
Crushed red pepper flakes
Indicates item can be purchased at Tenuta's.
Directions:
Tenuta's Deli is proud to present one of our favorite traditional dishes from the Puglia region of Italy – Orecchiette with Broccoli Rabe. This dish, with its ear-shaped pasta and bitter greens, is a testament to the simplicity and flavor of Italian cuisine.
Originating from the sun-kissed region of Puglia, orecchiette, which means "little ears" in Italian, has been a staple for centuries. The combination with broccoli rabe, a leafy green with a slightly bitter taste, is a classic pairing that showcases the balance of flavors that Italian cuisine is known for. This dish is not just food; it's a journey through the rich history and culture of Puglia.
Prepare the Broccoli Rabe: In a large pot of boiling salted water, blanch the broccoli rabe for about 2 minutes until it's slightly tender. Remove with a slotted spoon and set aside. Keep the water boiling for the pasta.
Cook the Pasta: In the same pot of boiling water, add the orecchiette and cook according to the package instructions until al dente.
Sauté the Ingredients: While the pasta is cooking, heat the olive oil in a large skillet over medium heat. Add the sliced garlic and chili pepper (if using). Sauté for 1-2 minutes until the garlic is golden but not browned.
Add the Broccoli Rabe: Add the blanched broccoli rabe to the skillet and sauté for another 3-4 minutes, allowing the flavors to meld.
Combine Pasta and Broccoli Rabe: Once the pasta is cooked, drain it, reserving a cup of pasta water. Add the orecchiette to the skillet with the broccoli rabe, tossing to combine. If the mixture is too dry, add a bit of the reserved pasta water until you reach the desired consistency.
Serve: Transfer the orecchiette and broccoli rabe to serving dishes. Sprinkle with grated Pecorino cheese and red pepper flakes (if desired). Drizzle with a bit more olive oil and serve immediately.
Enjoy this classic Pugliese dish and let the flavors transport you to the heart of Italy! Perfect for serving to those who appreciate authentic Italian flavors.
More Family Recipes
There's no better time than now to start cooking up some memorable meals with the help of our family recipe. Our recipes are simple and delicious, and will surely delight your friends and family. So what are you waiting for? Start cooking today!