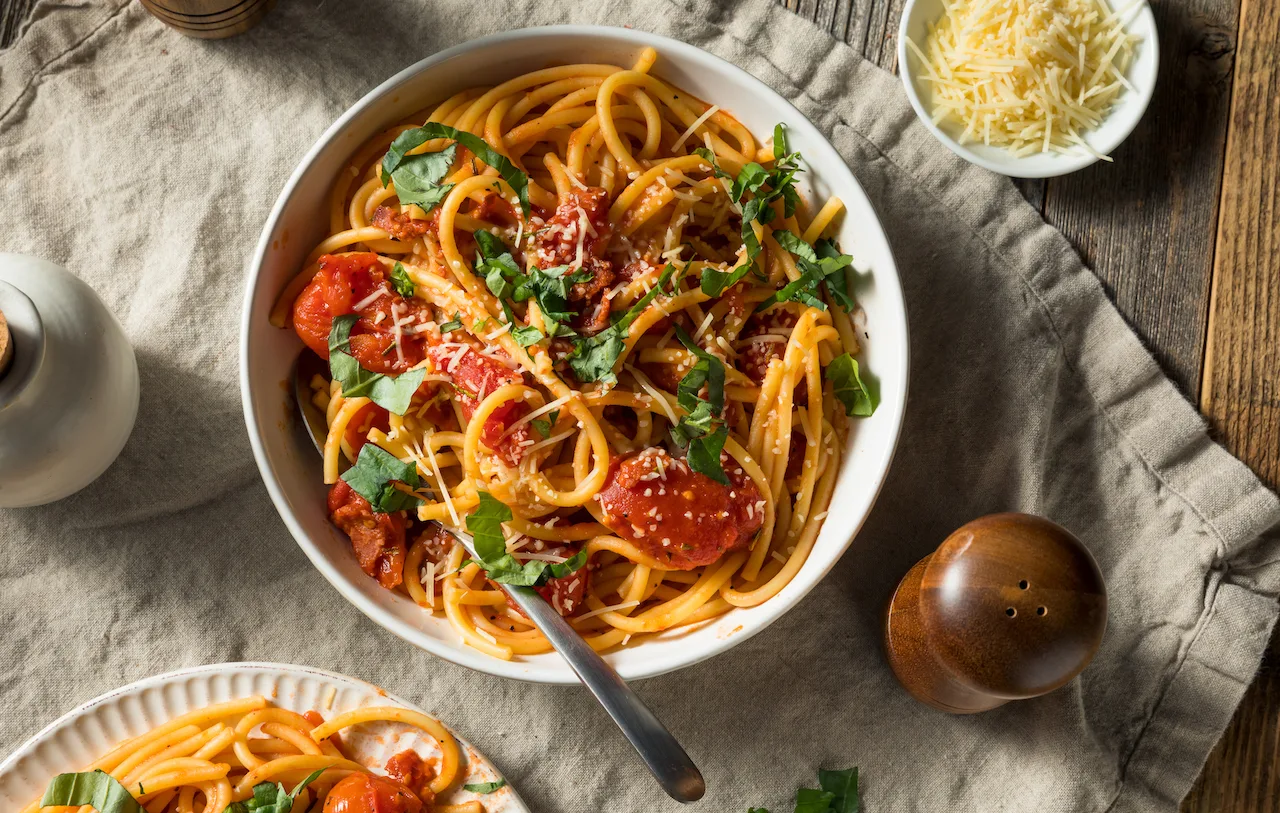 Ingredients
1/2 pound unsliced pancetta or proscuitto
3 tablespoons olive oil
1 medium red onion, peeled and coarsely chopped
1 1/2 pounds canned tomatoes, preferably imported Italian
1/2 teaspoon hot red-pepper flakes
Salt and freshly ground black pepper
1 pound dried bucatini or perciatelli
1/2 cup freshly grated Pecorino, Romano or Parmesan cheese
Indicates item can be purchased at Tenuta's.
Directions:
Serves: 4-6| Cook Time: 45 min
Cut the pancetta or prosciutto into chunks less than one-half inch thick. Place in a saucepan with the olive oil and fry over low heat for 15 minutes, until all the fat has been rendered out and the meat is very crisp. Remove the meat from the pan with a slotted spoon and set aside.
Add the onion to the pan and saute over medium heat for five minutes.
Drain the tomatoes, finely chop them and add to the onion in the pan. Season with red pepper flakes and salt and pepper to taste and simmer for 20 minutes, stirring occasionally.
Meanwhile, bring a large pot of cold water to a boil and add salt to taste, and simmer for 20 minutes, stirring occasionally.
Transfer the cooked sauce to a large, heavy skillet over medium-high heat. Add the pasta and reserved meat and cook, stirring, for 30 seconds. Remove the skillet from the heat, add the cheese and mix very well. Transfer the pasta to a warm platter and serve immediately.
More Family Recipes
There's no better time than now to start cooking up some memorable meals with the help of our family recipe. Our recipes are simple and delicious, and will surely delight your friends and family. So what are you waiting for? Start cooking today!