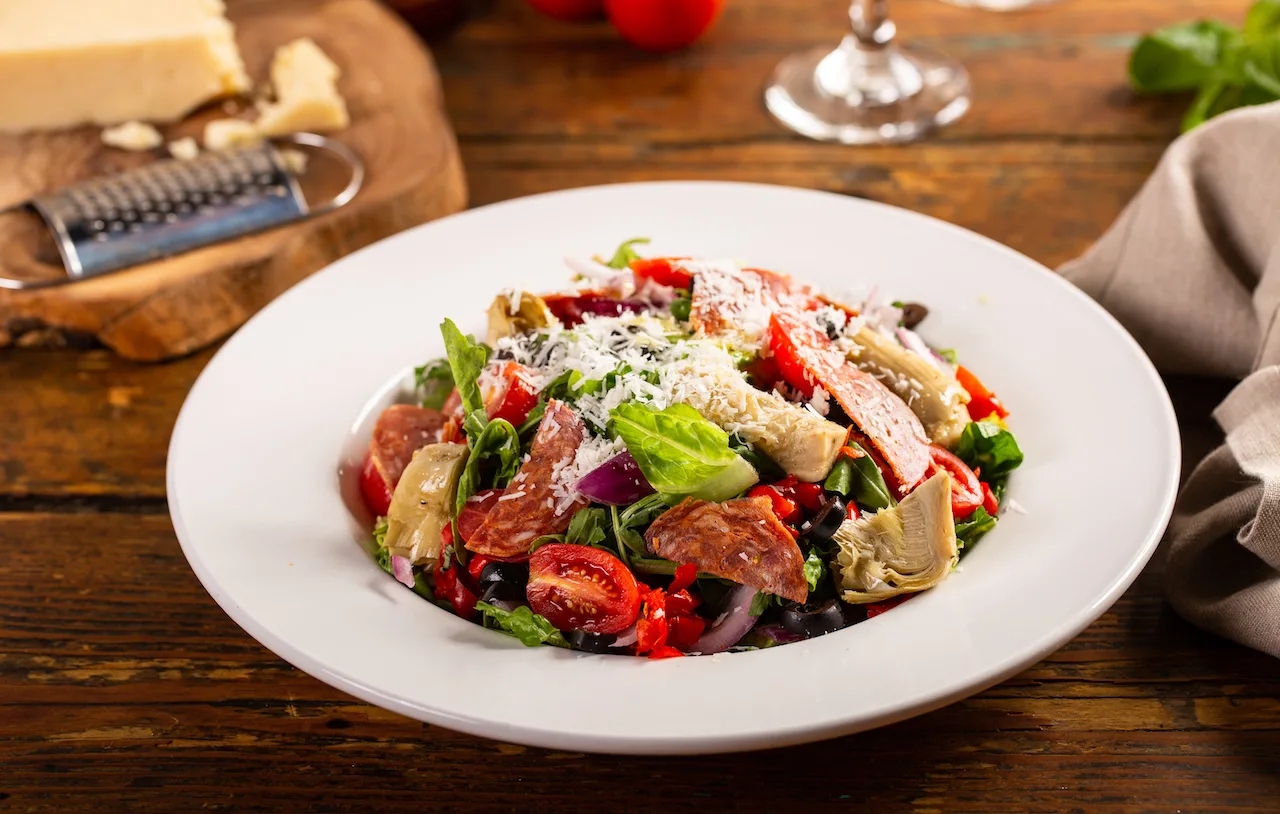 Creamy Parmesan Lemon Dressing
1/2 cup mayonnaise
2 tablespoons lemon juice, plus more as needed
1 tablespoon extra-virgin olive oil
1/3 cup freshly grated Parmesan cheese
2 garlic cloves, minced or grated
1 teaspoon Dijon mustard
1 teaspoon Italian seasoning
1/2 teaspoon garlic powder
1/4 teaspoon onion powder
Kosher salt
Freshly cracked black pepper
Salad
1 large head of romaine lettuce, chopped
1 (12-ounce) jar artichoke hearts, drained and quartered
8 ounces small fresh mozzarella cheese balls, cut in half
1 (6-ounce) jar roasted red peppers, drained and chopped
4 ounces salami and/or pepperoni, cut into thin strips
3/4 cup mixed olives, halved and pitted
1/2 cup pepperoncini peppers, thinly sliced
1/4 small red onion, thinly sliced
15 fresh basil leaves, ribboned, for serving
Indicates item can be purchased at Tenuta's.
Directions:
Serves: 6 | Prep Time: 15 min | Cook Time: 0 min | Calories: 379
Make the dressing. In a small bowl, combine mayonnaise, lemon juice, olive oil, Parmesan, garlic, mustard, Italian seasoning, garlic powder, and onion powder. Season with salt and pepper. Whisk together to combine well. Taste and adjust seasonings as desired.
Make the salad. In a large serving bowl, combine the romaine, olives, salami, red peppers, mozzarella, artichoke hearts, pepperoncini, and red onion. Toss to mix.
Drizzle the desired amount of dressing over the salad and toss to coat. Garnish with basil and serve.
More Family Recipes
There's no better time than now to start cooking up some memorable meals with the help of our family recipe. Our recipes are simple and delicious, and will surely delight your friends and family. So what are you waiting for? Start cooking today!